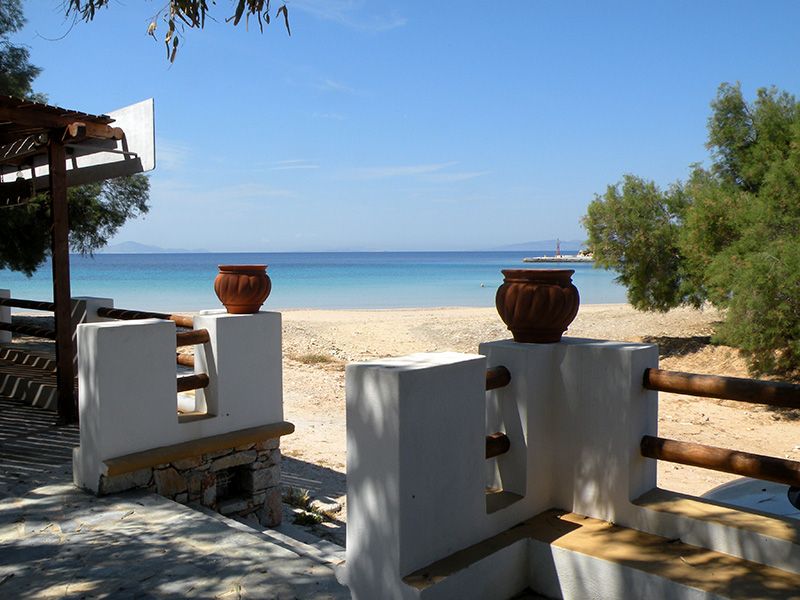 The "Aposperitis apartments" is a modern accommodation, able to satisfy every visitor of Donoussa.

There is one big yard wherein the children can play and run securely. Also, if someone wants to rest on any of the yard's benches, will be able to hear clearly the plop of the waves arriving to the beach. It's really enjoyable, after the hot "desert" of the beach, to find freshness under the shade of the huge eucalyptus being there.

The reception is in a central point of the ground level and someone of the family is always there, morning and evening, to serve you. Furthermore, in an emergency case, you can call us any time to one of the telephone numbers posted at the notice board of the reception.

On the floor of the accommodation there are three 2-single bed rooms and two 2-room apartments. Every one of them has got its own balcony. Also, everyone is equipped with TV, a small refrigerator, air-condition, water boiler, hair dryer and a shower unit in the bathroom. A wi-fi connection is active to every room. In case of a baby, a travel cot is available for its sleep.

Αn electric-solar water heater supplies hot water to every room for 24 hours a day, even in the cloudy days. A sure thing for everyone who chooses the "Aposperitis apartments" is that, is not necessary to use his car at all. In a distance of just a couple of meters, there is a mini market and in only two minutes by foot the well known traditional foods of Donousa. For the safety of your car the civic parking is only a hundred meters away.